welcome back to friday! it seems to be a pattern that my wednesday's and thursday's are uber busy. well.. i knew thursday's were.. but man it's like after tuesday i don't know where the rest of the week went! but in my book.. i like it! :)
here is a photo to celebrate the 6 month [to this day] count down for m's [in the middle] wedding, my sister-in-law [on the right] that i get to see this weekend!!! :) and *hopefully* see l's [in the background] new house too!!! we were all roommates one.. man we had fun! and yes.. this was a typical evening for us :)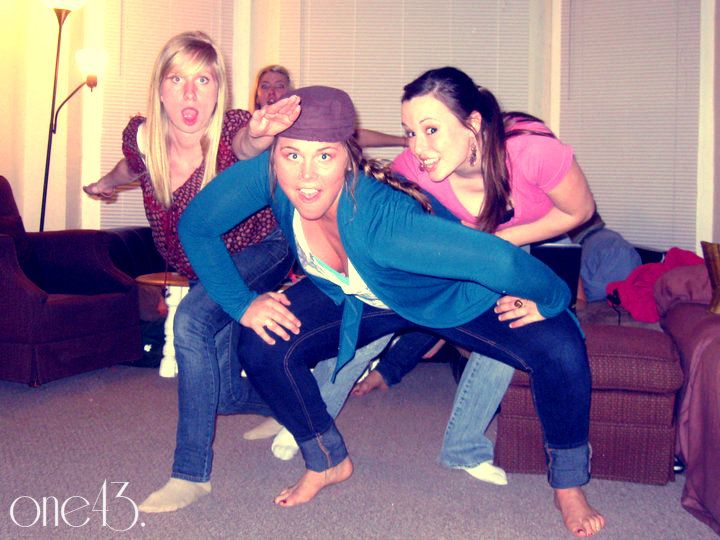 dear 4:30
- please come quickly! i am super excited for my weekend to start!! :) we are going to have wonderful hot weather here! that means laying out on the pool side and lots of sunshine!
dear garage sales
- could you please have some awesome
cheap
inexpensive stuff for me to find tomorrow? and please don't sell quickly.. i haven't had much luck with you yet this season.
dear bloggie friends
- thanks so much for all your awesome love, encouragement, support and laughs :) if you all keep this up i won't have to start that workout plan ;).. just kidding.. yes i do.. like yesterday.
dear
mr. b
- i just continue to be so amazed and blessed by you. i'm glad we can be so silly and laugh together and not have any cares of what others think. you rock!
dear koala yummys
- i can't believe we found each other in the store!!!! mr. camper koala yummy, i am so terribly sorry you were forgotten about and that mr. b crushed you in his sleep.. your friends sure were tasty!!
dear pms
- you can leave any day now. i have nothing else to say.
xoxo